A new mission started in Kharubhanga, West Bengal on July 16, 2023. A satellite community to build bridges and bring people closer to Jesus.
"Mother Igilda Rodolfi's 22 years of waiting was a great lesson for us who waited for a year and a half to realise the project of our dreams at Kharubhanga," say Sr. Carmela Ekka and Sr. Nirmala Beck- the pioneers of the new mission, a satellite presence, initiated on 16 July 2023. The PIME presence was initiated in this place on 2 February 2020. Holy Cross Church at Kharubhanga is in the interior area of the dioceses of Bagdogra in West Bengal, on the border with Bangladesh.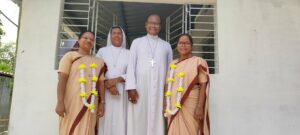 Kharubhanga is a beautiful place surrounded by tea garden. The greenery of the tea garden gives a pleasant feeling to everyone. The locality is very interior, isolated from urban surrounding. The majority of the people are tribal, employed in the tea plantations as daily wageworkers. The urgent challenges we see are education as well as the spiritual animation of youth and families. There are also ecclesial and social challenges of the context, which will be taken care of in the course of time.
The need was expressed orally by Fr. Ferruccio Brambillasca, PIME Superior General, to carry out the mission in collaboration with the PIME. Bishop Vincent Aind of Bagdogra diocese too expressed his desire to have our presence. The parish priest, Rev. Fr. Xavier Ambati, PIME, counted on our presence since the inauguration of the parish. While the Parishioners of Kharubhanga waited eagerly for the dawn of this day.
One has to travel several kilometres to reach to this parish, as it is located in the interior area. There are around 400 Catholic families with 1,700 people. What is most challenging is the distance and the isolation from the cities, schools, hospital, marketplaces, etc. Our presence is challenging yet is most inspiring. Kharubhanga is truly a mission land, where we need to build bridges and bring people closer to Jesus and the world that is far from them.
Srs. Nirmala Beck and Carmela Ekka – Kharubhanga