We, the postulants of Siliguri, are glad to express our sincere thanks to God for granting us such a beautiful opportunity to give him to the peripheries of the world. We along with Sr. Jacintha Xavier stayed in the village for 10 days. Our village camp began with three days of retreat in the parish where we could feel his love and abundant graces. After having received the blessings and graces of God we were filled with zeal and enthusiasm to begin our village camp in two villages' keshore Dobha and Pitha Bichi.
Every day of our journey the spirit led us to visit the families to listen to their family situations which made us to give some hope and courage to them.  Last day of our mission in keshore Dobha in the evening we had the rosary procession with lighted candles going house to house by carrying the statue of our dear Mother Mary. It moved the hearts of the people to come together to join in the rosary procession. We shared our faith experiences through which people were helped to increase their faith and devotion in Mother Mary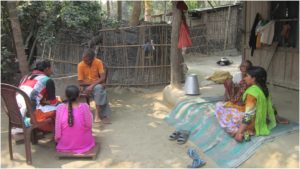 In Pitha Bichi village we conducted way of the cross in the street where many non Christians joined the procession.
We visited neighboring villages and people were very happy and received us with lot of joy. In the two villages we gathered the children and taught them prayers and action songs where they came to know more about Jesus.
It was a great joy to commit ourselves to animate the people about the importances of mission and the life of missionaries. We enacted about Blessed John Mazzucconi. Indeed it was good experience to be with the people and to learn many things for life.
                                                                                                Postulants – Nirmala Jyothi Niwas, Siliguri