Remarkable were the days when  Pontifical Institute for Foreign Mission (PIME) and eight other congregations/movements (Missionary Sisters of St. Joseph of Anyang, Sisters of Providence, Catechist Sisters of St Ann, Sisters of Reparation, Catechist Sisters of Immaculate Heart of Mary Queen of Angels, Missionary Sisters of the Immaculate (MSI), Silsilah Dialogue Movement and Emmaus Dialogue Movement) which have imbibed the spiritual heritage and foundational links from PIME, foregathered for the first time for a missionary formation course from 11th to 16th February 2019, at Medchal, Hyderabad, India.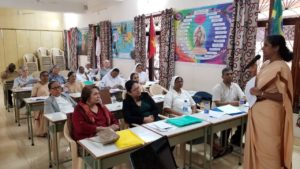 In the inaugural address, Fr. Ferruccio Brambillasca, the Superior General of PIME emphasized that this family gathering was envisioned to know each other, our mission and to plan for the future collaboration in mission. Welcoming the participants of seven nationalities, Sr. Antonella Tovaglieri, the Superior General of Missionary Sisters of the Immaculate appreciated presence of missionaries from different countries and realities, to be witness of this important event to share and to strengthen the Spirit of PIME family, the relationship that began many years ago through some PIME missionaries.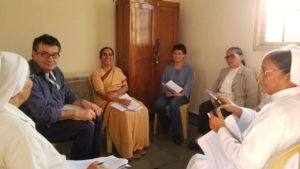 Starting from the beginning of PIME up to now, Fr. Gianni Criveller PIME underlined the different ways of understanding the concept of Mission, the idea of mission as MISSIO DEI and the magisterium of Pope Francis. He elucidated how the changes in the understanding of the theology of mission influenced the way of carrying out the mission by PIME in different parts of the world and expounded mission as an idea of gift, dialogue and commitment to human rights.
The presence of women in the history of Mission was effectively presented by Sr. Regina Da Costa Pedro MSI and Sr. Ursula Pinto MSI by placing the foundation of MSI in the context of mission and its successive changes in the understanding of the role of women, their presence and contributions.
The participants were enlightened and the vision of mission was broadened when Fr. Sergio Ticcozzi PIME, explained the missionary spirituality drawn from the life of the saints and martyrs of PIME.
The sharing of the Charism and Spirituality of the nine participating congregations was yet another opportunity to know more about each other, the concerns about the mission and to rekindle a spark in the hearts on how to collaborate and network in the mission.
This PIME family gathering renewed the missionary spirit, strengthened the friendship that binds us and urged all to seek suitable ways for carrying on the evangelizing mission of the Church in and through our congregations/societies/movements in response to the needs of the mission and the signs of the time.
sr. Biji Philip, General Consellour