March 8th is the special important day for all the women. In every part of the world this day is celebrated. It is an occasion to remember many women with their different situations, the challenges they face and the beauty of their presence in the world. In Bangladesh we celebrated this day joyfully.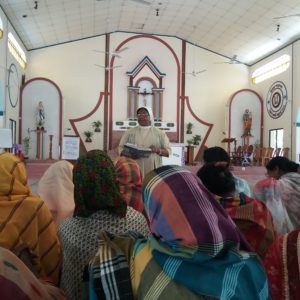 On this day, we organized for them moments of meetings, prayer services and sharing in many of our missions.
We lived this day with some of the women and the missionary group from our parish in Dhanjuri.
After a brief moment of welcome, Srs. Teresa P. Gomes and Maria Goretti Kisku guided the formative moment on the theme "The role of the women in the Church". Then it was followed by Mass as well as lunch.
It was interesting to listen to some of the women who shared their experiences by telling how they live as Christians in the Bengali church.
For example, Lili who shared that she grew up in faith with the sisters and is happy to be able to participate in the parish missionary group where she can pray, share, relate with other women and help others. What she feels is that she can express her faith without any hesitation and have an active role within the parish.
Lili was able to study and became a nurse. She is now married and has two daughters. She said that I hope that I will be able to teach my daughters the importance of study and the necessity to know that there is a place for them in the society and in the church.
It was a beautiful day for us. We spent the day in joy and sharing. It made us to be aware of the speciality of the women of being together in a simple and friendly way. We lived this moment as traveling companions who narrate, support one another and walk together.
Editing of Bangladesh