Missionary Mandate of Sr. Konica Costa
"My grace is sufficient to you" (2Cor 12:9). This is the phrase chosen by sr. Konica Costa for her missionary mandate as she was destined to the mission of South Brazil.
The celebration was held on 8th April,  on a Sunday afternoon,  in the PIME parish of Mary Queen of the Apostles, at Mirpur in Dhaka.
The Holy Mass was presided over by Fr. Henri Ribeiro (OMI) and concelebrated by many PIME priests and many other priests. Besides her family members, our sisters were also present there, along with many parishioners who showed their sign of affection towards Sr. Konica, who, for many years had lived in this part of the Capital city.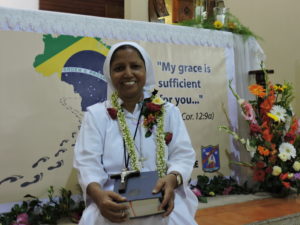 "My grace is sufficient to you". It tells about the total trust of Sr. Konica at this important and delicate moment of her life. Sr. Konica had different responsibilities. For many years she was the provincial superior of Bangladesh. Now she is 50 years old and is being asked to leave everything: all the relationships developed, all the projects realized, her family and especially her mother who is already ageing.
"My grace is sufficient to you". It is also a reassurance that the Lord gives her by telling her that He will be with her in facing the challenges of a new language, new places, new distances and new fears.
Oh yes! Exactly, in our lives it is necessary to have the Grace of God to leave and to go. To leave everything one has attained and to embrace the new.
The editing of Bangladesh.