Our presence in Tunísia officially started on 30th of May 2020 (in HAMMAM LIF, a town of 44,000 inhabitants about 16 km from south of Tunis). Sr. Rekha, sr. Rosangela and sr. Jessy are the sisters who form the new community. Two are of Indian nationality and the other one is Italian. We asked them to share their current experience in a few lines. They made it in three different languages, and this can represent the richness of diversity in terms of cultures and nationalities that we can meet in this small community inserted in the Tunisian context. Internationality and interculturality: words that characterize all our presences and communities in the world!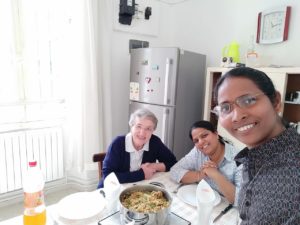 It is a beautiful and meaningful day of  starting our new presence in Tunisia officially . I reached here with the lockdown because of the pandemie. Very few times I went out but each time I found people who are very welcoming and encouraging which gives  me hope that I can do something wonderful in this land with the help of the  mighty power of the Lord and the guidance of our Heavenly Mother. (sr. Jessy  Rymond)
Io definirei questo  inizio ufficiale della nostra prima comunità in Tunisia come un nuovo inizio dentro un cammino che viene da lontano.  Sono qui da poco più di un anno dopo molti anni vissuti in diversi servizi in Italia dopo il rientro dal mio primo paese di missione: la Guinea Bissau. In questa frase c'è più di metà della mia vita perché non sono più giovane ma, come mi definiscono qui per non mettermi nella categoria delle anziane: …"ha la sua età"!  Si, per me è un felice nuovo inizio dentro un cammino ricco della presenza di Cristo Gesù. Ciò che ho da subito sentito arrivando in questo Paese e inserendomi nella piccola Chiesa locale insieme alla sorella che mi aveva preceduta già da più di due anni, è stata anzitutto la meraviglia di scoprire come lo Spirito Santo aveva già così tanto operato in questa terra bagnata dal sangue di molti cristiani che hanno donato la vita per testimoniare la loro fede in Cristo fin dai primi secoli della Chiesa. E come anche oggi la fede, l'amore e la speranza vissute da questi nostri fratelli e sorelle ci illumina e ci dà coraggio nel cammino in questa piccola Chiesa che desidera continuare a dare con semplicità la propria testimonianza di fede in Gesù, con rispetto e amore dentro un Paese di fede musulmana.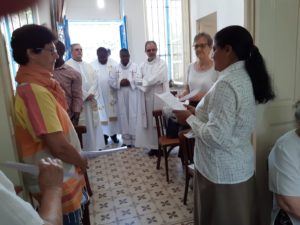 Inoltre sento in modo forte come qui ad Hammam Lif, dove abitiamo e dove non ci sono altri battezzati, la presenza cristiana è affidata alla testimonianza della nostra piccola comunità che, accogliendo ogni giorno la grazia di Dio dalla forza che ci viene dall'Eucaristia che custodiamo nella nostra piccola cappella, cerca di vivere la propria fede con semplicità.
Questo inizio ufficiale della nostra piccola presenza cristiana e missionaria qui, per me allora ha in modo forte questo servizio e compito: di continuare a rendere presente nelle piccole occasioni di ogni giorno e nella preghiera personale e comunitaria, l'amore di Dio che ci è stato manifestato in Cristo Gesù e di continuare a discernere i cammini per i quali lo Spirito Santo vorrà condurci nel futuro. (Sr. Rosangela Ratti)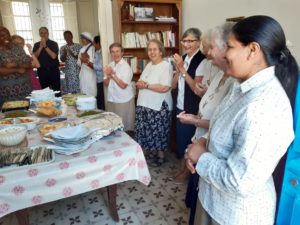 Le Bienheureux Paolo Manna, PIME notre inspirateur nous disait : « Nous sommes tous et seulement missionnaires. Nous n'allons pas en mission selon nos préférences ni nos choix, mais nous allons où l'Esprit de Dieu nous envoie à travers nos responsables ». Je suis très convaincue ce texte en vivant en Tunisie depuis trois ans. Et je me trouve bien, être Missionnaire de Dieu au milieu de nos frères et sœurs musulmans.  La vive passion me pousse beaucoup avec une pensée très forte et vivante : Où Je suis, Je suis missionnaire. Parcours avec les migrants et d'autres activités, visite aux familles tunisiennes etc. me pousse toujours partage l'amour de Dieu ici sur cette terre qui nous a accueilli quand la porte de l'Algérie était fermée pour moi. Les tunisiens sont très accueillants quand nous les visitons. Je suis sûr que notre nouvelle présence en Tunisie est la volonté de Dieu. Comme Mère Dones nous a dit : « La congrégation est un arbre pousse selon la volonté de Dieu dans le jardin de l'Eglise responsables ». Je suis. Que Marie Reine des Apôtres notre Patronne intercède pour notre Communauté et mission dans l'Eglise de la Tunisie. (sr. Rekha Garwal)