Welcome to make a journey with Sr. Velangani Chinnabathini from Andhra Pradesh (South East India) to West Bengal (North East India.)
POINT OF DEPARTURE

: STATE:  ANDHRA PRADESH. DIOCESE & DISTRICT: VIJAYAWADA -KRISHNA

POINT OF ARRIVAL:

WEST BENGAL- SILIGURI. DIOCESE & DISTRICT: JALPAIGUR
Sr. Velangani Chinnabathini, was born on 22, April 1984, At Vijayawada in Andhra Pradesh. Entered the MSI family on 8 July 2001, made her First Profession on 16 July 2006, Medchal and Final Profession on 4 January 2014, Vijayawada. Right from the beginning of her initial formation, Sr. Velangani was in the Province of Siliguri (North East India). As a result she had done her Come and See and Postulancy at Pre-Novitiate house, Siliguri. Thereby, she got acquainted with language and customs of the place from her initial formation. Nevertheless, she shares with us her maiden experiences of the time while inserting herself into the local culture.
---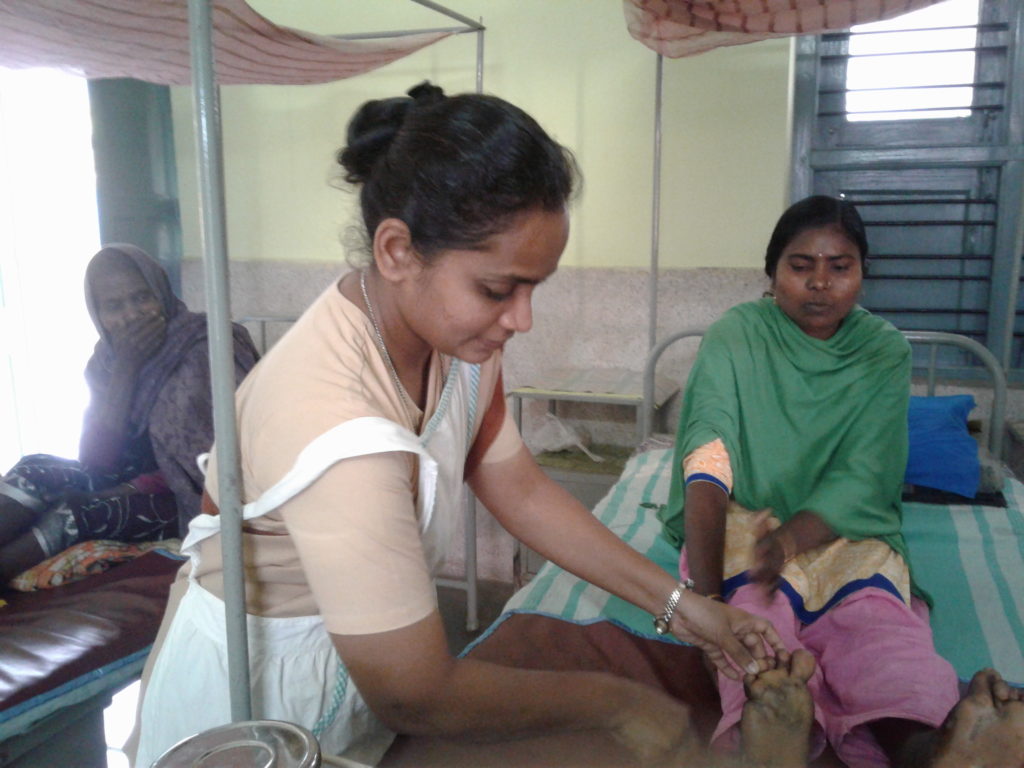 Learning a new language in the mission requires a lot of dedication, commitment and time. I had this possibility of getting exposed to different cultures and languages right at the beginning of my missionary call. It is almost 15 years that I am in Siliguri, yet I am still learning the beauty of this culture and people, which is entirely diverse than that of mine. Most of us are aware of the culture of Andhra Pradesh, a state, in the South-Eastern Coastal Region of India where the Missionary Sisters of the Immaculate began their mission in the year 1948. Right from my childhood, I was not a stranger to the MSI, I can say that I was brought up within the convent walls and was familiar with sisters. In fact my desire to be a missionary sprang forth staying amidst them, be it in Nirmala Convent, Vijayawada or in the Boarding school at Fathimapuram and at Gudivada. 
Having had the presence of the sisters in and around me, often I would hear the tones and sounds of different languages that they would speak. In my efforts to copy their sounds I would wish them, "Toothnight Sisters" which obviously meant "Goodnight Sisters."  Learning different languages that came my way as a Missionary Sister of the Immaculate, had always brought a deep satisfaction in my apostolate. 
I go back to the year 2002, when as a formee I travelled for the first time by train for three days to arrive in Siliguri. Upon my arrival, I found difficult to adjust and to adopt to the new culture, language and people. There are times, I was confused, I was discouraged, I was lost…amidst initial difficulties of inserting myself into a new culture. For few days I kept silence and observed the functioning of everything around me. The sisters were speaking either in English or in Hindi. People outside were speaking Hindi or their dialect, which were like Greek and Latin to me.
Language should not be a barrier for a missionary, because, every missionary knows "the language of love," this became the source of my consolation and it did help me to move happily with the sisters and my companions. But as soon as I started visiting the villages and attending the family prayers, I felt strongly that language of love alone was not sufficient to make my mission fruitful. 
It's here that I decided to enhance myself by learning the local languages that would come on my way. In course of time, many good Samaritans assisted me to learn it well. I observed that at the beginning, when I tried to speak with the people in their own language (even with simple basic phrases), they were so much inclined to help me. They would understand me and correct me if I was wrong in my expressions and pronunciations. That was a great source of encouragement for me. This in turn helped me to foster a sense of belonging to the local people, their culture and everything they are.
It wasn't just a learning of few words and its tone,
but the LIFE of the people of the place. 
While I was a nursing student in Patna, I was much more exposed to the people. This was one of the best opportune time in my life, which challenged me to teach to the patients about different topics and its consequences. Complications became much easier when I explained in their language and the degree of satisfaction in the apostolate grew bigger and wider.  Being able to communicate in the local language helped me to understand the pain of the patients, their life stories, I grew in empathy, tolerance, acceptance of others, etc. This was a self-growth in me.  
Language, even if it's not perfect, helps to become one with people. It connects us with their life and their throbbing stories. It is a way to pass on the culture from one generation to the next. It educates and creates social bonds.  One of the biggest benefits of knowing local language was that it allowed me to communicate with everyone, on a different level- a level that was within the grasp of my audience. I found that the more I insert myself into their culture, the friendlier and loving they become towards me. Language helped me to construct a common bridge to exchange our ideas and emotions. Our mission becomes stress free and blissful when we learn the local language and plunge ourselves with the people in spreading God's Kingdom. 
Let the words of Mother Dones ring in our ears, "Love for the mission is shown concretely by learning well the local language, adapting oneself to the climate, customs and the food of the place."
LONG LIVE A MISSIONARY IN HER MISSION LAND!
Sr. Velangani Chinnabathini, Siliguri-India