On 18th January, the youth from the diocese of Yaoundè – Cameroon, responded in large number to the traditional diocesan youth festival. This year it was held at Mimboman in a parish of the Salesians. The theme was taken from the Gospel of St. John 19:27 "Behold, your mother".

In the morning at 7.30 a.m. the young people full of enthusiasm gathered in the parish of St. Joseph at Mvog-Ada to begin the Eucharistic procession. After two hours of walking, marked by prayer and singing, they arrived at the destination. The young people were happy for walking through the streets of the capital city by completing this penitential journey.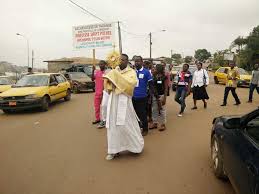 After the lunch the youth were divided into different stands (groups). Each stand was animated by the religious. They were the biblical stand, the chastity stand, the denomination stand, the drug stand and the organizing stand.
The young people coming out from the hall overjoyed for having found answers to their questions. The day ended with a moment of entertainment of music, dance and drama.
The archbishop of Yaoundé M. Jean Mbarga arrived at 7 p.m. He was happy to meet many young people. He began the Eucharistic celebration by listening to the questions of young people and during the homily he replied to those questions. He insisted on the Christian values, morals, the way they dress etc. He invited the young people to renew themselves and bring out their talents that the Lord has given them.
The celebration ended by giving away the prizes and certificates to the participants. After the Holy Mass the celebration continued with a concert and at midnight we recited the rosary along with songs and procession. It was a touching moment when the young people shared their faith with the lighted candles. The day ended with the mandate by giving the next gathering in the month of July for the National Youth Day at Garoua in north Cameroon.
sr. Beatrice Tchi Ignabe,  Cameroon