On 3rd October, we, the Missionary Sisters of the Immaculate, together with the PIME Fathers, went for the pilgrimage to the shrine of Geba, Diocese of Bafatá, to celebrate the 70 years of PIME's presence in Guinea Bissau.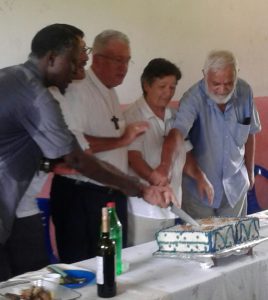 The pilgrimage started from the Diocesan Curia of Bafatá with the presence of Mgr. Pedro Zilli, Bishop of Bafatá, Mgr. Lampra Cá, Auxiliary Bishop of Bissau, and some of the representatives of the Christian community of Geba. The PIME Fathers arrived in Guinea Bissau in 1947 and they were sent to the remote places of Bafatá and Geba. At the beginning, it was very hard for them because of the lack of hospitality and a feeling of solitude. The evangelization of the first Christians began precisely here.
During the Eucharistic celebration, Fr. Fabio Motta, the Regional Superior of PIME in Guinea Bissau, presented the history of PIME emphasizing the charism of ad gentes, ad extra and ad vitam. During his homily, Bishop Zilli said that the PIME Fathers must irradiate enthusiasm and help the people of God to understand the beauty of a life totally dedicated and set apart for the mission. We, the Missionary Sisters of the Immaculate, feel fully involved in living the same charism.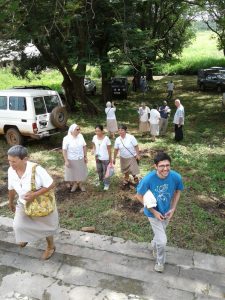 Since the beginning of our presence in Guinea, we, the MSI, have always collaborated with the PIME in the same mission of the first proclamation, the catechesis, the formation of catechists and missionary animation in the villages.
In these 70 years of the PIME, two important aspects have been emphasized:
– to work in the periphery, in the remote villages, the "tabanke", compared to the "praça" (city) to be near to everyone. The PIME started the commitment of "ad gentes" in Guinea Bissau.
– encountering with the local cultures.
These are the two aspects that unite the Missionary Sisters of the Immaculate and the PIME. As MSI, we look at our priorities: to be a prophetic communities that announce the Gospel in the peripheries of the world, not only geographically but also to the people.
We thank the Lord for the gift of our charism, our friendship and the desire to live together the mission in Guinea Bissau, at the service of the local Church.
Sr. Alessandra Bonfanti, Guinea Bissau