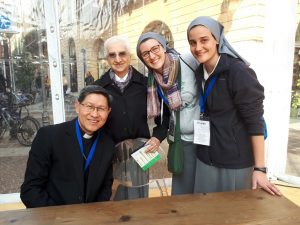 The first glance of the Mission Festival looked like an authentic "Amusement Park" of the mission!
The beautiful initiatives proposed have filled our daily schedule. We started our day with the Holy Mass together, then divided ourselves into groups for the various testimonies and round table discussions offered by a variety of programs. At lunch and dinner times, there were the innovative "cocktail of the missionary", and in the evening performances of every kind (dramatization or musical concerts). Everything was focused on to a single and clear objective, through a question: "Is the mission possible?"
Listening to the feedback on this Festival, we can say that the response was more than positive. The missionary enthusiasm was strongly renewed by the sharing of life, between different faces and stories. The Missionaries, lay people, young people, the elderly, simple citizens of Brescia, unaware of what was happening in their city, they were all united by a wave of joy, made up of smiles, hospitality, meetings, testimonies and conversations.
It has resounded strongly, during these days of festivities, the invitation to go out, a departure caused by the awareness that we go elsewhere, not as a result of a humanitarian needs, not even for the spirit of adventure, but because even today, the Lord sends!
Sr. Paola Locatelli, Italy