The mission of Kodbir is situated in the district of Dinajpur, in the area of Phulbari, in the north of Bangladesh. This mission was a subcenter of Dhanjuri parish and has been declared a parish in 2016.
Its name is "Conversion of Saint Paul" but most of the people know it as a Parail mission.
Kodbir is a small community. At present 4 sisters are working there in different ways: parish primary school, dispensary, preaching of the Gospel in the villages, pastoral work, credit union. Trough all these activities, we are trying to make a good relationship with the people.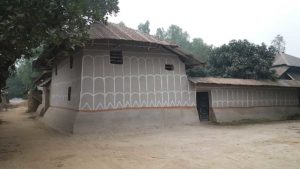 The majority of the people are Santali tribe. We visit the families in the villages. We organize seminars for the youth. We give catechism to the children and to adults for morality. We also organize seminars for the promotion of women.
Education
Without education, development is not possible. For this reason we spend our time and energies to work in the education field. We teach in the parish primary school. Through this activity we are helping the cultural development of children. Most of the parents are poor and they cannot afford the boarding fees. For children, this is an opportunity to study and improve their life.
Healthcare
In this area, there is no one hospital. The nearest is in Dinajpur but it is too far for people and also doctors are too expensive. For these reason, people go to our dispensary for their primary treatment.
Moreover, they trust in us: seems that if they take our medicines they get better more quickly. Our sister gives sick people first of all her time, listening to them and taking care of them with great love. By this activity, we also start to put the basis of good dialogue with other religions.