One month ago we had the priviledge of receiving the pilgrimage Cross in our Parish along with all the parishners. We had the way of the Cross, Holy Mass and veneration of the Cross with devotion. On the following day we carried the Cross to the Parish of Bana, in North India. On the Holy Cross the last Seven words of Jesus were written and many people were looking at it.  With prayerful mood reciting of the Holy Rosary, Mercy Rosary and singing devotional songs we accompanied the Cross up to the foot of the Mountain. While the Cross  was being carried through the town very few people understood the significance of th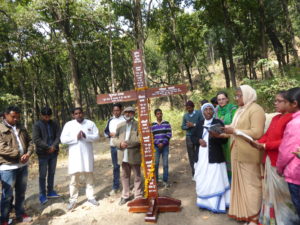 e cross. Most of them ignored it yet it was a chance for us to bear witness to Christ among the non-Christians.
The people of Bana  along with the Parish priest Fr. Uday were waiting eagerly to receive the Cross. We were edified with the deep faith and enthusiasm of the people of Bana more than twenty-five of them came to receive the Cross and we had a small prayer service there and the Cross was handed over to them. Reciting the Rosary they started to climb the mountain which has the height of 3 kilomeeter. As a whole all were happy to bear witness to Jesus in this small pilgrimage journey of the Holy Cross.
Delhi Delegation