It was a great joy for us when we heard that Fr. Francis Meli, born in Poi Island, from the Archdiocese of Rabaul, had been elected new bishop of Vanimo. Since the moment of the announcement our bishop  Cesare Bonivento praised him and assured he would be a good shepherd for the flock of Vanimo with all his qualifications and experiences.
The diocese started to wait for the Episcopal ordination.  The whole month of April was a long waiting and preparation to embrace the great auspicious day.
A committee was established in order to organize the function in all the details.  All the parishes, religious congregations and pious groups were given different roles and responsibilities. All of us were happy and started to work for the success of the day.
The Episcopal ordination took place on the Feast of St. Mark, 25 April 2018, a remarkable day for us all.
His Excellency Archbishop Kurian Mathew Vayalunkal, Apostolic Nuncio Papua New Guinea and Solomon Islands was the Principal Ordaining Bishop while  Archbishop Francisco Panfilo, SDB and Bishop Cesare Bonivento, PIME were  the Assisting Bishops.  Cardinal John Ribat, Archbishop of Port Moresby, 15 bishops of Papua New Guinea and Solomon Islands, priests, religious and faithful were part of the celebrations.  Many people from the Diocese of Rabaul and other parts of PNG joined. Some priests and visitors from abroad were also present for the occasion.
In his homily, Archbishop Kurian i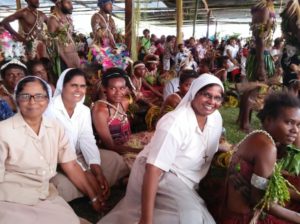 nvited Bishop Francis to reflect on the highest call to the fullness of the priesthood.  He reminded him that he needs to show the face of God's mercy to his people and underlined three important responsibilities – to teach, to sanctify and to govern the people of God.  "You welcome, you walk and you stay with your flock,' he emphasized.
The liturgy was actively conducted with different colored dances and beautiful choir, well arranged and participated by 3000 people coming from all the part of the Diocese.
At the end of the Mass Bishop  Francis Meli expressed his deep gratitude. He thanked God, the Holy Father, the Apostolic Nuncio and all present.  He thanked Bishop Cesare Bonivento, PIME for his leadership and commitment to the Diocese of Vanimo.  "You have handed over the Diocese of Vanimo in an excellent state.  You have left a legacy and a challenge for me to continue", he said.  He appreciated greatly Archbishop Panfilo for the years of inspirational life of prayer and leadership in service of the poor.  He spoke of his principle in life.  "God is number one in my life, people are second and I am third", he said.
To his flock he said: "I do not know the people, situation and circumstances of the diocese of Vanimo, yet basing myself on my motto, I commit my life and ministry as Bishop of Vanimo with justice and truth".
Sr. Rosemary Arulandu – Papua New Guinea